We, at Parklane are proud of the food we serve. We provide a wide choice of delicious Indian, Continental, Italian, Mexican and Chinese food in accordance with the customers' preferences.
Parklane boasts of a multi-cuisine restaurant with a wide choice of seating – from from indoor to terrace garden, an open air garden seating with a unique rain water shelter used during the rainy season. Our restaurant is surrounded by an immaculate garden of flowering creepers and hanging pots filled with lush green foliage, creating a perfect ambience for you to relax and de-stress.
We offer continental & indian breakfast from 7.00 am to the residents and visitors and Bar-b-que nights on weekends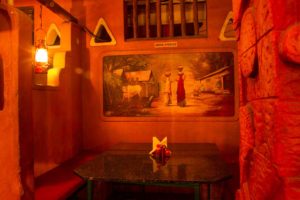 Breakfast for residents and customers can be ordered by 7 'o clock in the morning.
Beer Garden, an open-air garden seating with a unique rainwater shelter helpful during the rainy season. Surrounded by fresh air and an immaculate garden of flowering creepers and lush green foliage, we create a perfect ambience for you to relax and de-stress.

A smoking section of international standards has been installed for smokers while others can enjoy a smoke free zone.

An indoor theme restaurant of rustic ambience includes 9 secluded cabins for privacy.

Enjoy live classical Indian instrumental music every night.

Our poolside restaurant, situated at the rooftop has a very surrealistic atmosphere with innovatively designed artistic pillars and plenty of fresh plants and creepers. (This facility is available only for our room guests)
hotel deals, hotel in mysore, hotel mysore, hotels mysore, hotel mysore india, hotel reservation, hotel roopa mysore, hotels at mysore, hotels in mysore, hotels in mysore with rates, hotels in mysore with tariff, hotels mysore, mysore budget hotels,mysore dasara, mysore hotels and resorts, mysore hotels list, online hotel booking, economy Hotels,hotels, hotel,cheap hotels, cheap hotel,booking hotel,booking hotels,discount hotels,discount hotel, cheap accommodation,cheap accommodation,hotel room,hotel rooms,book hotel,hotel websites,book hotels,hotel finder,hotels online,hotel offers,make my trip mysore,goibibo mysore,treebo mysore ,Hotels in Mysore, Hotels near Mysore Palace,mysore Hotels, Hotels in mysore, hotels mysore India, Hotel in mysore, 4 star hotel in mysore, hotels near mysore airport, hotels at mysore, star hotel in mysore,Hotel Suvarna Mysore, budget Hotels in Mysore, Hotels in Mysore,Business hotels in Mysore, budget hotels in Mysore, Mysore city,Hotel Suvarna Mysore, Budget Hotels in Mysore